How Does Your Association Compare? The 2018 Membership Marketing Benchmarking Report.
07/24/2018 1:00 PM EDT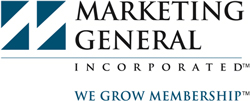 What are the emerging trends in association marketing? Is your organization keeping up with industry averages? What's changed in how associations attract, engage, and renew members?
Join MGI benchmarking survey collaborators Tony Rossell, Senior Vice President, and Matt Kerr, Research Manager, on Tuesday, July 24, 2018. Dive into the findings from the 10th Anniversary Edition of the Membership Marketing Benchmarking Report.
Earn 1 credit toward your CAE.
There is no charge for this webinar. The final fifteen minutes will be devoted to questions and answers.
As a CAE Approved Provider educational program related to the CAE exam content outline, this program may be applied for 1 credit toward your CAE application or renewal professional development requirements.
Please note that live webinars are eligible for CAE credit, but not on-demand/archived webinars.
Note: This program is not endorsed, accredited, or affiliated with ASAE or the CAE program. Applicants may use any program that meets eligibility requirements in the specific time frame toward the exam application or renewal. There are no specific individual courses required as part of the applications – selection of eligible education is up to the applicant based on his/her needs.