Key Takeaways and Insights from MGI's 2023 Membership Marketing Benchmarking Report

Wednesday, October 18, 2023
12:00-1:00 pm ET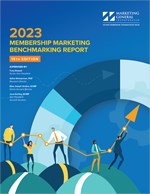 This year's Membership Marketing Benchmarking Report shares encouraging news for association leaders. Membership is rebounding after the challenges of the past several years.
During this membership rebound, what should you do to recruit more members, increase your renewal rates, and grow your membership? How can you improve your association's membership results now and in the future?
Join MGI senior staff Tony Rossell, Elisa Joseph Anders, and Adina Wasserman, PhD, on Wednesday, October 18, 2023, as they dive into the findings from MGI's 2023 Membership Marketing Benchmarking Report and talk about applying these results to drive membership growth for your association.
Earn 1 credit toward your CAE.
There is no charge for this webinar.
As a CAE Approved Provider educational program related to the CAE exam content outline, this program may be applied for 1 credit toward your CAE application or renewal professional development requirements.
Please note that live webinars are eligible for CAE credit, but not on-demand/archived webinars.
Note: This program is not endorsed, accredited, or affiliated with ASAE or the CAE program. Applicants may use any program that meets eligibility requirements in the specific timeframe toward the exam application or renewal. There are no specific individual courses required as part of the applications – selection of eligible education is up to the applicant based on their needs.
* Indicates required field
This offer is not valid to those in the EU. By submitting this request, I authorize Marketing General Incorporated to send me electronic communications from time to time regarding exclusive Marketing General Incorporated resources. This service can be discontinued at any time by following the opt-out links in the communications.
Marketing General Incorporated
625 North Washington Street, Suite 450
Alexandria, VA 22314
Phone: 703.739.1000
Toll Free: 800.644.6646
Fax: 703.549.6057
info@MarketingGeneral.com
www.MarketingGeneral.com